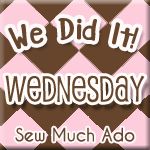 I found the energy today to roll off the couch and tackle my first "
Fat Quarter Baby Skirt
." I am amazed - I have never even done elastic before, and I made the entire thing in about one hour. And remember, I am a BEGINNER! I am falling in love with sewing, and so happy about it. I think everything I've absorbed watching my mom sew all those years is finally kicking in. Something
right
must be happening in my brain, along with all the pregnancy fog rolling around up there :)
Here it is, made of a darling creamy grey colored fat quarter with an orange pattern of little birds and swirls all over it:
It cost all of 99 cents because fat quarters were on sale last week at
JoAnn
! If you sew AT ALL, you must try this project. Brilliant idea,
Wink Designs
; thanks for the inspiration!
Update: Here is another skirt, finished in under two hours, made of soft JoAnn flannel. I like this one even more than the first!